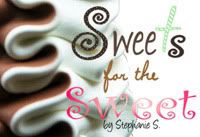 Today, I'm sharing my favorite summertime drinks from America's Drive-In, SONIC!
The Java Chiller & Watermelon Slush
I will happily drink the Java Chiller in any flavor - Mocha and Turtle are my favorites. The Java Chillers aren't coffee-strong - just a little coffee flavor added into a milk-shake inspired treat. I also love the Watermelon Slush, which is way too sugary but reminds me of Watermelon Jolly Ranchers (which I love as well!)
To make Homemade Java Chillers
, Blend a shot (or two) of expresso with a couple generous scoops of vanilla icecream; pour into a glass, top with whipped cream and drizzle with chocolate syrup.
Now, it's your turn
: Grab my Sweets for the Sweets button, stick it on your sugary post somewhere, and share your favorite summer treat - then link it up below! Make sure to check back and read some others' posts - you may find a recipe or treat you would like to make or go out and buy! :)