D

ear sweet sugary heavenly goodness, have any of you tried a slice of the Starbucks

Raspberry Swirl

Pound Cake

? If you haven't, DO IT NOW. It's beautiful looking and beautiful tasting, and you will not be disappointed! I've gotta find an imitation recipe for this because it's seasonal (and time is running out - FAST!)
Thanks to all of the awesome blog hop hosts, I'm gathering awesome new followers, and finding more and more great blogs to follow myself! I'm already brainstorming for my first blog "Celebration"... will it be a giveaway? For the 100th post?... or 100 followers? What will be in the giveaway, if there is one? Will it be one of my hand painted wooden signs? Maybe a mixed bunch of goodies? I really haven't a solid clue, but I do have ideas. I'm a brainstorming fanatic - in fact, that's what I do all day, about everything.
Just a little side note: I'm currently painting some West Virginia-theme signs to sell to folks back at home and in the Addison Visitor's Center in Webster Springs. The most popular design seems to be this:
"16" wide x 7.5" tall, with a little sanding around the edges and corners to create that country aged look. I like adding a bit of wire and ribbon for a little extra something special. I'm sticking to colors like sage green, creamy blues, antique white, and mauvy pinks which fit in with most country decor perfectly. My WV Gals are loving this design; however, I'm aware that country boys and small town girls fall in love in places other than the state of West Virginia, so if you're interested in something like this for another location, let me know! I truly love creating this piece - I've done it a few times over, and i enjoy it more each time. It's just... so... cute and romantic!
To wrap up Hump Day, it's time for the blog hop...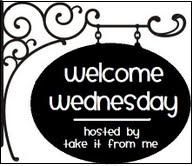 Thanks for reading/following, and Happy HUMP Day!