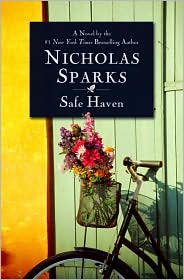 Maybe I've missed the boat somehow, but I just found out that Nicholas Sparks' newest book will be released in bookstores nationwide on September 14th! "

Safe Haven

" sounds like a great love story, as is usual with Sparks' novels.
I first got into Nicholas Sparks' books last summer. In fact, it was around this time last year that I decided to jump on the NS bandwagon. All of my closest girl friends and female family members were completely smitten with Sparks' writing, and I didn't understand all of the fuss. I hate feeling out of the loop, so I spent my July 4th holiday weekend reading, then later watching, the super popular Nights in Rodanthe. I was hopelessly hooked! Hopelessly hooked led to feverishly hooked, and by the end of the summer, I had read every single Nicholas Sparks novel, cried buckets of tears, and diagnosed myself temporarily with every form of terminal illness that NS's characters suffered from - because there's almost always at least one important character that's sick and dying. I watched all of the movies, too - which, i.m.o., are nowhere as near as good as the books (I think most Nicholas Sparks fans will agree - just too much detail in the books to be covered in a screenplay!) The movies were fun too, though - my favorite was the Notebook, followed by A Walk to Remember (which was a completely disgusting snotty nosed sobfest of an experience! Ugh... how heartbreaking!)
I'll never forget my summer with Nicholas Sparks. There's just something cozy, calming, and heart warming about his writing - it's easy to understand, it flows well, and the books never take more than a few days to read. I also love that his novels are set in N.C. - always so summery and romantic! In celebration of finding out the news that his newest novel will be coming out in just two short months, along with the anniversary of my discovering the world of Nicholas Sparks, I present:
Steph's Nicholas Sparks Top 10
10. The Last Song (movie)
So...any other Nicholas Sparks junkies out there?
P.S. Today, I'm linking up at Buzz on by Thursday, hosted by

The Two Savvy Sisters

and

Fashionably Organized

- Check their blogs out to get the rules, then play along and meet lots of new bloggers!