One week until Myrtle Beach, S.C.!
1. What one food could you eat every single day?
Pasta... all kinds, all shapes, all sizes. With seafood, with veggies, or plain with a simple sauce. And lots of extra parmesan cheese, please!

2. Do you wear glasses or contacts?
Glasses - I only need to wear them when sitting in front of the computer, or sitting in a room with bright florescent lighting for long periods of time. I love picking out cute frames - currently, I'm wearing these by bebe!
3. What kind of cell phone do you have?
the iPhone - yes, I've been sucked in to the iPhone hole! I love apple products!

4. What did you have for dinner last night?
A bottle of water and some mints to go along with the heartburn I got after eating garlic shrimp scampi from Red Lobster, immediately followed by a chocolate milkshake from McDonalds for lunch! (My cholesterol levels thanked me later. Not really.)

5. What is your favorite candy?
Plain dark chocolate, Plain milk chocolate, pretzel, or strawberried peanut butter m&ms, please! Read my m&ms analysis here.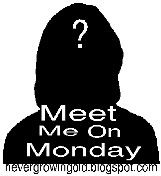 Answer the MMM questions, then link up!