Happy Friday!
I can't believe it's already July - the summer is totally flying by. There are a few things swirling around i my little mind today:
One more month until the beach!
My husband and I haven't been to the beach in five years. In fact, the last time we went to the beach, we weren't married yet. (And while swimming in the ocean, a gigantic wave washed me ashore like a dead fish - and my bikini top was hanging off, my bottoms halfway down my legs. Niiice.) The Snyder fam is headed to Myrtle Beach the first week of August, and I can't wait! Lots of relaxing and reading - just what I need.
The Cincinnati Reds are awesome this year!
I keep most sports-related thoughts to myself during the summertime, because 1) I'm mostly into football, which i WILL blog about from time to time during the fall, 2)I know most people don't want to hear my sports-related opinions - it's a good way to make enemies and I certainly don't want that, and 3) Summertime is kinda like a "break" from sports for me - they're going on, but it's nice to have a breather after NCAA fball & bball, NFL, and NBA have ended. I'm tightly wound during those seasons! Anyway, I just wanted to point out that the Reds are doing really well this season - I've claimed the Reds since moving to Athens, and while I wish i could attend more games, I'm happy that I saw them on opening day - and i'm very happy that they're actually winning this year! Adding to that...
Football season is right around the corner!
Just another month... then college practice and NFL preseason start! GO PATRIOTS! GO HERD! GO BOBCATS!

I've taken my love for dessert and...
decided to start my own meme! I've found that when I blog about chocolate and other sugary substances, my readers are super interested. I thought it would be nice to tack this on to my weekend blogging - I'm not specifying a day of the week, because hey - we all like dessert on any given day, right? A time to share all things dessert related - whether it's an ode to your favorite store-bought candy, a recommendation for a dessert at a restaurant chain that we should all try, or recipes that you would like to share - this will be the time and place. And of course, Mr. Linky will be around - so get ready! This is the button: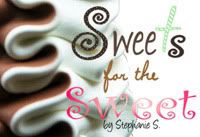 and I'll be kicking things off with my favorite cookie recipe (and surprisingly, it's not chocolate! WOW!)
I can't wait to see how this goes - although I'm sure I'll be wrecking my beach bound body because of it. HAHAHA (like I even had one anyway - no amount of diet or exercise will ever take away my Chocolate pouch!)
Speaking of dessert... I had a delicious piece of cheesecake with fudge sauce at the Outback last night. Mmmmmm....
So start thinking about your favorite sweet treats - the fun begins tomorrow!
Have a super Friday!