Welcome to a new week! There's not a whole lot going on in my world... I'm still trying to process the movie "Inception", which I watched two whole days ago - yep, still processing. Stillll thinking. Still analyzing. It was a difficult movie for someone who prefers "flickering images", or movies that require no thought process! haha :) Seriously though, Leonardo Dicaprio is fantastic. And the box of mini-Butterfingers I had for a snack were fantastic, too!
MAN, some bloggers have been posting some super amazing recipes as of late! I'm not much of a baker in the summertime, but when fall rolls around, I get into it. I'm stockpiling recipes left and right, so keep 'em comin'!
I would like to remind you to join in my 100-follower celebration giveaway fun! You can win this super cute sign - made by yours truly - just by following and showin' me your love via commenting!
I appreciate all of those who follow, read, and support my blog, and I just had to make something special for you to win! Read more about the giveaway

here

.
I know I'm slacking today, but it's Monday and I'm completely blank. I think I'm actually focused on work this early A.M.! GASP! I'm streaming my favorite local radio station online, ready to get busy at the office. This, my friends, is a rarity - well, not the radio station part, but the whole gettin' busy at the office part!
To wrap things up, I'm going to participate in "Meet Me on Monday", hosted by Java @

Never Growing Old

. Read my answers, post your own set of answers, then head on over to Java's blog and link up!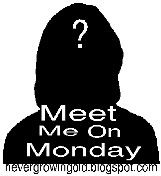 1. What is your favorite sandwich?
Turkey Ranch & Swiss on whole wheat from Quiznos! I could eat it every day!
2. What is stashed under your bed/mattress?
My Hallmark Keepsake Christmas Ornaments and Marshall University Ornaments - I keep them neatly organized and protected in Rubbermaid containers (I'm OCD about my Christmas ornaments!) Also, the cat can sometimes be found under the bed, especially during thunderstorms.
3. What is your favorite flower?
Bright, happy gerbera daisies!
4. What is your favorite magazine?
Decorating magazines, crafty magazines, girly magazines, and Sports Illustrated
5. How often do you weigh yourself?
Once per week - I'm not quite a gym rat, but I like to workout and maintain.
Have a great Monday, all!