I have enough Bath & Body Works products stockpiled to last me through the next 4 or 5 decades - maybe even the apocolypse, since I fully intend to survive as long as I have plenty of "I need a Margarita" body wash on hand.
I. am. an. addict.
The scents are wonderful, and the products are good quality, but that's only a little bit of the reason why I love the stuff so much. The packaging, the in-store displays,

the super attractive and user-friendly online store

, the "sales" that often trick buyers into big time overspending, and the cute, sweet, helpful little sales associates all suck me in. Every single item in the store looks good - good as in I want to eat it, drink it, or sleep with it under my pillow good. I've tried to cut back on my B&B Works shopping sprees, but when I'm motivated to do so, that freaking "Hello Yellow" semi-annual sale starts - then lasts - for a whole month. I can't possibly stay away from those great deals!
So, I've fully admitted - I am a "BBWA" - Bath & Body Works Addict.

Are you

?
Today, I'm reviewing B&BW's latest Summer signature collection release,

Forever Sunshine

.
Earlier this week, I walked into the store, where FOrever Sunshine was the feature display. The scent hit me like a ton of bricks - in a good way. It smelled familiar. The sales associate squirted a golfball size glob of the Forever Sunshine body lotion into the palm of the my hand, and described the product as "A summer version of Twilight Woods". Ahhh... that's IT, I thought, Twilight Woods being my favorite B&BW scent. I grabbed a couple of Forever Sunshine products, along with the 6 for $24 mix & match Wallflower plug ins and fragrance bulbs, used a coupon to get some free stuff, and headed out. I continued to ponder what else was familiar about the new scent all evening, and after processing the fragrance notes for a few more hours, I came to a conclusion. "Forever Sunshine" is Twilight Woods meets Britney Spears' "Fantasy"! Deeelicious.
Whenever I decide to put together a giveaway, you can bet that a Forever Sunshine product will be included. It is now my #1 favorite B&BW scent - sweet, spicy, floral, and fruity - I LOVE it!
Please, feel free to share your B&BW addiction - I need to know that I am not alone!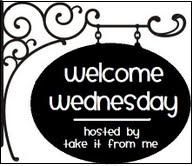 One of my favorite blog hops, hosted by
Take It From Me
- Click on the button above to find great new blogs to follow!
Thanks for stopping by - have a smelly good, sunshiny Wednesday!
We're headed over the HUMP!