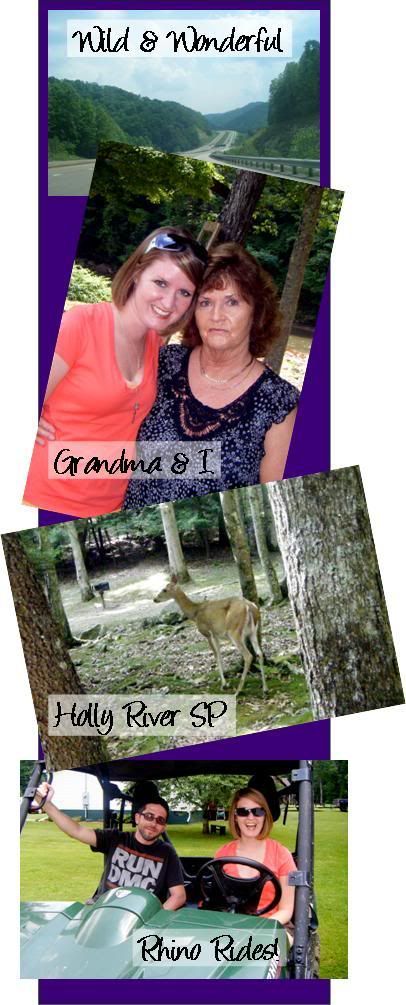 It's time to recap my weekend (which was probably one of the best WV visits I've had in a long time!)
Friday afternoon, Todd & I made the 3-hour trip to Webster County, WV. Nas & Damian Marley's album, "Distant Relatives" entertained us the whole way (I truly love all types of music!)
We celebrated my father-in-law's 51st birthday with Pizza, Cake, and Ice Cream - which I was pretty sure would cause my stomach to burst, after being on a whole grain low-fat diet for months (great news - my stomach is still in tact.) We bought Mike the new Jerry West biography, which should be a pretty amazing book - I want to borrow it after he is finished reading it! After some visiting with the in-laws, I headed to Webster Springs. It was pretty much the fastest 20 minute drive from Cowen to Webster Springs that I've ever made; I was trying to beat the start of the Woodchopping Festival Fireman's parade (which I successfully did) - it's no fun sitting in a car headed down the mountain with the emergency brake set for 30+ minutes (been there, done that, sucks big time!)
I spent the evening hanging out w/Mom and my step-dad, Dannie, who were preparing for Saturday's annual cook-out. I never really help mom in the kitchen - she mans the battle station, and I just sit and sample everything she pushes toward me. I offer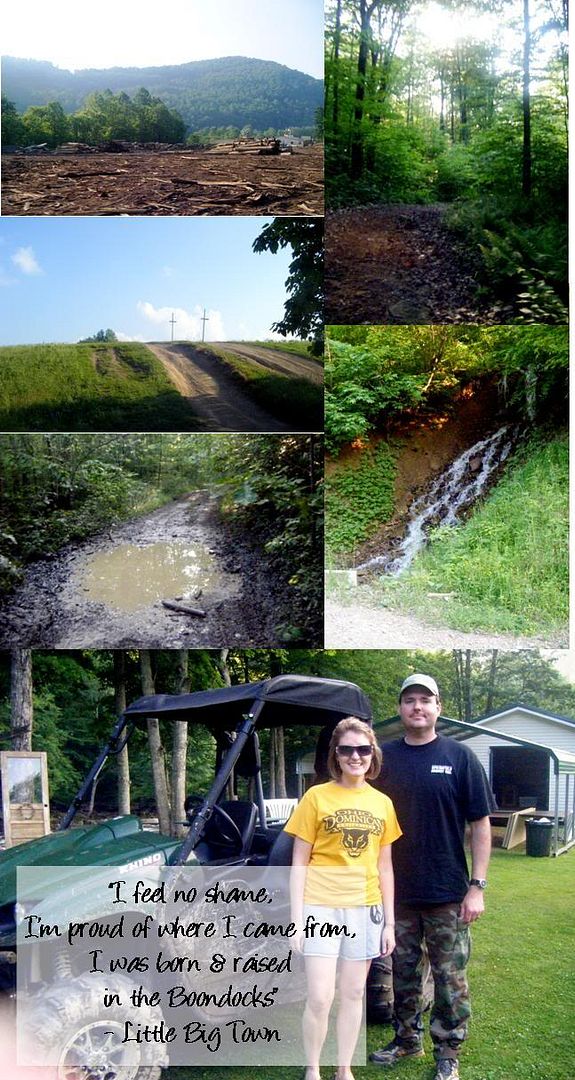 to help, but an extra pair of hands usually messes up her flow of things. We had a late, chit-chatty evening, and I winded down by watching Twilight on Encore after they went to bed. Wonderful Friday!
Saturday was fantastic food & fun with fam & friends. Around 60 people stopped by the cook-out in the afternoon, and it was great catching up with everyone. Mom drove people crazy with her digital camera (which is a whole other blog topic i may get to eventually - those crabby people who hate getting their photo taken! WTF? Just be a good sport, ok? At least, decline the photo op in a respectful manner... Or, I know, try this... SMILE and look at the camera - you'll look just fine. Just like you do in real life. Ugh. I've taken some unflattering photos in my lifetime, but it always ends up being ok in the end, doesn't it?) My brother brought the Rhino, which he planned to use for an 8 hour trek the next day. It ended up being super entertainment... I rode around in it, took Todd for a ride (if only our Athens friends could've seen us!), and later in the evening, went on a 2.5 hour mountain adventure with my brother. We ran into some fun folks who were also ATV-ing it up, and I took a ton of photos (which ended up being a ton of tree leaves, mudholes, and blur.) I hadn't been on an ATV in like 10 or more years, so it was pretty crazy and exciting. I also realized that I am a big wimp, and as i posted on FB during the weekend, "you can take the country outta the girl!" I still have the accent, but almost everything else country about me is rapidly disappearing... scary how much one can change in just a few years!
Sunday was really nice, because Todd & I both got to hang out w/our families all day before heading back to Athens. We usually head back first thing on Sunday morning when we go in for a weekend visit, so this was a pleasant change in plans for everyone. Mom and I drove to
Holly River State Park for my friend's bridal shower (Congratulations, Kacie!) I caught up with a lot of my high school girlfriends who I haven't seen in a long time. They are always a good time! Cary provided lots of laughter - I almost peed my pants on three separate occasions. Love her sense of humor :) Crystal (a fellow Marshall grad!) brought her youngest baby boy along for the fun, and I have to say - I enjoyed watching her "be a mom". She is so good at it - so patient, loving, and a bunch of other personality traits that I lack. It's truly heartwarming! If Todd and I ever have a boy, I'm turning straight to her for advice - she's raising two!
Kacie received tons of great gifts - It was a sea of Crate & Barrel boxes, and I drooled over every item. I'm wondering if I can create a registry for housewarming gifts when Todd and I move next year - is that acceptable, four years after the wedding? haha...
The shower itself was super cute and classy - the cake was beautiful! Kind of made me want to learn how to do cakes for special occasions... except, I suck horribly at baking. My favorite touch was the Buckeye Candy favors - perfect for the Bride and Groom, who are just finishing up Optometry school @ OSU :) Ahhh... the little things. To Kacie, Crystal, Cary, Sue, Cindy, and all the rest - it was great seeing you for a little while!
Vampire Weekend was the music of choice as Todd & I headed back to Athens Sunday evening. Both of us had a great time visiting w/our loved ones - we needed it badly. It's so easy to feel disconnected from "home" when you have a completely different life that you really enjoy living somewhere else, too. We love our families and wish we could take them with us wherever we go, but we hope to move to a terrific college town where they will have lots of fun when they visit us. Only time will tell... job openings will be posted beginning in late August/early September, and that's when we'll start seeing the real possibilities of where we might end up. I may have to start a whole other blog for that part of our lives!
I hope everyone else had a great weekend as well! Happy June, and as always, thanks for taking the time to catch up w/me!