"
How far to heaven? Just open your eyes and look.
You are in heaven
."
- Shankar
The New River Gorge, Fayette County, West Virginia
I was born and raised in West Virginia; I moved to Ohio in 2006, at the age of 22. When my husband and I travel back to WV, the visits are simple - time is spent catching up with our loved ones, enjoying some of mom's cooking, and hanging out in our familiar childhood backyards, chit-chatting and relaxing.
In spring of '08, my husband and I attended one of my close friend's weddings while visiting our hometown. Her reception was held at Smokey's on the Gorge, in the town of Lansing (Fayette County). Smokey's on the Gorge is a beautiful restaurant/reception location with large outside patios and decks that overlook the New River Gorge Canyon and New River. In the distance, you can also see the New River Gorge Bridge (the third largest steel arch bridge in the world and site of the

Annual Bridge Day

.)
The photo above was taken from one of the decks at Smokey's. All I wanted to do was stand and stare at the gorgeous New River! I felt as though I had never seen it before... but I had - several times, in fact, while growing up.
Why didn't I appreciate the natural beauty of West Virginia when I actually lived there?
As an adult, I finally appreciate the pure, gorgeous scenery of my home state. This photo, enlarged to an 8x10, sits in a beautiful wooden frame inside my Ohio home - it will always be on display, regardless of where life takes my husband and I. We've left West Virginia, and we may never return there to live, but it's always nice to have the photo of the New River to remind us of where our home away from home is.
When I look at the photo, I can't help but to feel a little spirtual - that is God's work at it's finest! The photo is a reminder of the day my husband and I stood on the decks of Smokey's on the Gorge, celebrating our friend's wonderful wedding day, and gawking - in awe- at what we'd somehow missed our entire time of living in WV. "Almost Heaven, West Virginia" may be the state slogan, but the realization of how naturally beautiful our home state was heaven in itself.
~*This blog was inspired by one of the many terrific writing prompts found at Mama Kat's weekly Writer's Workshop. If you're suffering from writer's block, click the graphic below. Mama Kat's ideas are sure to inspire you, as they do hundreds of other bloggers each week!*~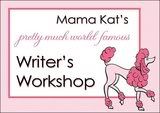 Today, take a moment to appreciate the beauty of your surroundings - whether it be tall city buildings, scenic mountains, or a lovely plant sitting in the window :)
Have a beautiful day!