It's BLOG AWARD TIME! :) I received THREE this week! I absolutely love my readers - you all are terrific and way too sweet! Kelly's Avenue nominated me for the Versatile Blogger Award, which i've already accepted and performed my required duties for HERE. Kelly is pretty much awesome all the way around - and she's got your back if you're an Etsy seller. She posts an

Etsy store feature each Monday

, and really helps direct traffic to your shop!
CJ @ Simply Simonsons gave me the Sugar Doll Award (which is super appropriate, seeing as how I'm hopelessly addicted to anything with sugar in it). CJ posts on a variety of topics, from book reviews to struggling with cutting back on soda - she has a terrific sense of humor, and her posts are always full of life and interesting to read!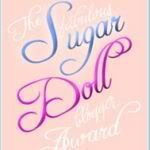 I would like to pass the Sugar Doll award on to:
Ashley @ My Carnival Ride nominated me for the Sunshine Award! Her blog is always happy and positive, and instantly puts me in a good mood when i visit. Ashley loves Starbucks Peppermint Hot Chocolate and Dark Chocolate M&Ms, which ups her awesome factor by like 1298792834 Percent!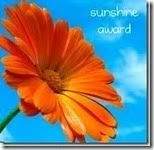 I'm passing the Sunshine Award on to:
Crazy Shenanigans
Simply Simonsons
Little Miss Scatterbrained
To accept the awards, I need to share a bunch of things about myself - so I'm combining it all into one:
1. I'm going to roast marshmallows over a fire at my mom's house this weekend
2. My favorite color is green; my favorite shade of green is LIME
3. I'm thinking of hosting a Christmas dessert swap w/my mom this year
4. I flipping love blogging
5. I wish I had one of those teeny tiny netbooks so i could blog anywhere and everywhere
6. My favorite T-shirt is an old worn out "Pitt Panthers" tee - I bought it less than two years ago on a trip to P-burgh, but i wear it so much it's nearly falling apart
7. I sweat like a man when i work out
8. My favorite scent to wear is Abercrombie & Fitch FIERCE - a men's cologne, but I love it
9. I use a loofah sponge - i can't stand washcloths!
10. I use two packets of hot cocoa mix for one cup :)
Thanks for the awards!