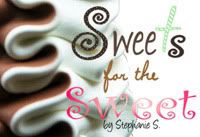 T

his week, it's all about cool, summertime treats - tell us about your aunt's key lime pie, a chilled beverage recipe from Betty Crocker's website that you would like to try, or something as simple as an ice cream cone from your favorite local custard stand!
The summertime treat i always turn to for a cool down (and a sugar rush) is an
ICED MOCHA.

I love both the Starbucks Cafe Mocha and the McDonald's Iced Mocha. (How can she like BOTH, you ask?) Starbucks is way smoother, and made with that lovely cocoa powder of theirs, but Starbucks is kind of out of my way in Athens - it's attached to the local Krogers, and who the heck wants to battle the Kroger's crowd for a coffee as often as I need one? So, I rely on McDonalds, which is conveniently located a couple of minutes away from my apartment and will use extra chocolate syrup if you ask :) McDonalds is way bitter, but both brands give me that chocolately, coffee infused buzz that I love - and need - when I get sloth-like but still have crap-tons to do. I especially love drinking iced mochas when i'm being artsy! It keeps the creative part of my brain rollin'.
I found this super yummy recipe on Rachel Ray's website - give it a whirl! It's super easy and super RICH. The recipe does not call for whipped cream on top, but you should definitely add it on before the chocolate shavings. Drizzle some chocolate syrup on there, too - you know, for good measure:
Iced Cafe Mocha
(
From Rachel Ray Magazine
)
1/2 Cup ground coffee
2 Tbsp Cocoa Powder
1/4 Cup sweetened condensed milk
Ice (for serving)
Chocolate Shavings (and whipped cream, and chocolate syrup if you NEED it - like me)
In a small bowl, combine ground coffee and cocoa. Using a coffee maker, brew with 4 cups of water.

Stir condensed milk into coffee, then refrigerate until cool.

Serve with Ice and chocolate shavings (and whipped cream and chocolate syrup on top, if you NEED it. haha)

Drink and feel like you're on crack for a while! YAY!
Now, it's your turn: Grab my Sweets for the Sweets button, stick it on your sugary post somewhere, and share your favorite summer treat - then link it up below! Make sure to check back and read some others' posts - you may find a recipe or treat you would like to make or go out and buy! :)