Hey, you.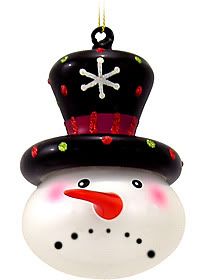 Yeah,

YOU

. The one who's been trashing people like me who like to start celebrating the holiday season a little early via Christmas decorating. I'm not talking about those who simply do not put a tree up until after Turkey day because it's tradition. I'm talking about the ones who are RUDE, NAGGY, and JUDGMENTAL. It's time to grab yourself a cup of coffee and get comfy, ya ol' crank!
My first initial reaction to early Holiday celebrating haters is: "WAHHHH! WAHHHH!!! Just leave me alone!!! Let me enjoy my Christmas tree in peace! boooo hoo hoooooooo..."
but then I start thinking about how screwed up it is to give someone serious heck over a house decoration, and my thinking gets a little less simple and starts getting a lot more crazy.
Is it a crime to be emmer effin' happy?!? It just so happens that my fake 6.5 ft. department store pine Christmas tree makes me kind of EXTREMELY happy. I collect ornaments throughout the year, always looking for them when I travel. I think the tree's gorgeous. It's fun, and so is silly cute Christmas Music. I smile, I get excited, I enjoy every single day leading up to Christmas (awww, good for me!) Those days begin around the first week of November for me, when radio stations start blasting Christmas tunes 24/7 and I decorate my Christmas Tree. If trees and music don't make you happy prior to the month of December, fine.

To each their own

. But instead of raising total not-so-Christmasy hell over those who actually do enjoy the excitement several days in addition to the 25th, why don't you... peacefully turn the radio station to something else? Yeah, that would do. Playfully teasing the people who are already hanging up stockings about how Christmas ridonkulous they are is cool, too. But please, do not resort to anger, or name calling. Or, how about this - don't accuse fanatics like me of "not being very Christian". That's being very judgmental, which is not very Christian-like. ("BOOM. Roasted.")
Thanksgiving

. I'm thankful - a very thankful person. I enjoy a few days off from work, I travel to WV to see the fam, I enjoy not one but two dinners - one with my in-laws, one at my mom & step-father's house. The food is great, we visit, we watch football and laze around, we laugh. Occasionally, someone gets choked on a piece of turkey and nearly dies at the dinner table. It's a great time had by all, and I usually conclude the whole she-bang by helping mom decorate her own tree, and going shopping on Black Friday. I go right along with the majority of consumer-happy Americans and hop head first into spending way too much dough at the mall, drinking unhealthy gluttonous amounts of Starbucks out of the red cup, and wasting entirely too much energy trying to achieve that perfect bow for that perfect present for that perfect sister-in-law. So what if i decide to start decorating before all of the Christmas chaos hits? I'm not decorating because I'm a Turkey hater. It's all because i enjoy it.
Some have repeatedly said, "I can't believe your tree is up. I cannot believe your tree is already up." Ok, fine. You can't believe my tree is up. Yay.
Others have repeatedly snarked around about how wrong it is to put up a tree before Thanksgiving. Wrong? Define "wrong". And by whose standards? THEIRS? Is there a direct correlation between the number of days that I insert a fake decorated pine tree into my living room prior to Thanksgiving and the percentage chance that I may have committed some kind of religious crime? Um, no. Seriously. SERIOUSLY. No.
"It's just wrrrooooonnnng", someone whined the other day. How much critical thinking fueled that comment? According to my calculations, a big,fat,empty, round ZERO.
I'm cool with friends and family lightheartedly saying "wow, that's early - you're crazy!" or, "man, you're on the ball with that!" or even "I don't think I could stand staring at the tree that long". I understand, smile, say something dorky like, "welp, whatever floats your boat!" and go one. However, I stop playing along when someone tells me I'm wrong. Instead of brushing it off, i BLOG. I am so badass.
If Christmas lights before Thanksgiving really make you sick, then turn your face in the other direction. If the Christmas gift card display at Wal-mart angers you, drop the act and just buy one for me already. If you really feel pent up aggression and rage about those who choose to start the celebrating a little bit early, you should just succomb to your fears and frustrations, join in the madness, and get to HO-HO-HO'in - you'll be a much happier person without all of those personal "Christmas decorations before Thanksgiving is the devil!" feelings bottled up inside, I promise. If nothing else, please don't measure my level of spirituality on your Christianity thermometer, based on a Christmas ornament and the tree skirt my cat took a huge dookie on last year. No measuring, no judging, no hate. Just peace, live and let live, love, and smile. Those concepts are way easier on the heart and the mind.
Oh, and a $25 Walmart gift card will do just fine.