This past weekend, I spent an entire day on one project that most probably won't bother with until Thanksgiving or after. Most may only spend an hour or two; I spent quite a few more than that. Some think I'm crazy; others think I'm awesome. Are you excited to see my Christmas tree? Or are you rolling your eyes?
Truth be told, I know i'm ahead of the game. I'm aware that I should be sticking turkey-bird decorations around my kitchen, because that's what the calendar tells me to do. The only problem is... Wal-mart is telling me otherwise! Seriously, though - I put up my tree a couple of weeks before Thanksgiving each and every year, because I leave town during the holidays. I skip out of Athens for 4-5 days during the week of Thanksgiving, and again for a few days surrounding Christmas. Since I'm missing out on my home and Christmas decorations for 10 days or so during the holiday season, it's ok to put up my tree a week or two prior to Thanksgiving, right? Right.
In O' Christmas Tree (Part

I

), I'm going to share my magical tree and all of its' wonder with my readers. Some of you have been waiting for a while now, so today you're welcome to visit my home and check out some of my favorite ornaments!
O' Christmas Tree (Part

II

) is going to be a little less cheer, a little more rant. Anti-Christmas Decor before Thanksgiving-ers, take note - it's a blog post especially for you. Only I'm not welcoming you into my home - you can stand on the doorstep, in the cold! I might offer you some hot cocoa, though - I'm not that mean. (Part

II

comes later this week.)
And now, it's time to get Christmas-y!
"

The Story of my Christmas Tree

"
'Twas the morning of putting up the Christmas Tree, and all through the town of Athens,
not a creature was stirring- except for the lady at Starbucks who made my Peppermint Mocha at 9:00am. "Whipped Cream?" she asked - "Hell Yes", I answered. Ok, not really. I just said "yeah, thanks." But "Hell Yes" sounds way cooler. Anyway,
The Fake tree branches were separated with care, in hopes that gigantic millipedes wouldn't fall out everywhere.

True story. Last year, a 3-inch long millipede camoflaged itself in my tree, then inched its way across my floor and onto the couch. You never know what you're gonna find in the rolling hills of Southeastern Ohio...
500 Clear Lights were nestled all snug in their fake tree branches, while visions of anger and frustration danced in my head as i attempted to un-tangle 3 sets of gold beads.

Gold bead garland is a tradition in my family, as they were my brothers' favorite tree decoration growing up. So I shoved a candy cane in my mouth and continued on, because I love my brother. :) ... and out on the coffee table, I laid out all of my ornaments - well, they were on the floor, too. And everywhere else. Because I'm ridiculous. And weird. I sprang up and down the tree, strategically hanging the ornaments so the tree wouldn't tip over and make a loud clatter.
OK, enough of the Night Before Christmas thing - it's getting difficult and stupid and you're probably losing respect for me.
Basically, following the lights and gold beads, I added blue. My dad's favorite color was blue, and for some reason, my tree lacked blue in years past. This year, I purchased some new additions - Carolina blue snowflakes to tuck deep into the branches, and a few darker hued blue bulbs featuring glittery wintry/deer scenes. And so the ornament hanging had begun!
I collect Marshall University ornaments, ornaments that look sweet, sugary, and edible, and I dearly love Hallmark Keepsake ornaments as well. As far as a color scheme, I don't really keep one running - I just like things that are shiny and bright. The shinier and brighter, the better! When choosing new items to add each year, I make sure that they represent something personal - about me, my family, my life, the things I love. Places we've been, teams we cheer for, my favorite candy, and our favorite tv shows are represented on the tree. Example: Why would you hang a Twilight Zone TV ornament that lights up and plays the theme music? - A. Because it represents the 8 New Year's Eve Twilight Zone Marathons on Sci-Fi that I've watched with my husband since we started dating.
Of course, this little fellow was on hand to help in between cat naps. Surprisingly, he's not the type of kitty to climb and/or tear down trees and destroy ornaments. He's not a chewer, but he likes to rub his cheeks against the bottom branches. Occasionally he will throw a lazy jab at a bulb - he's just too fat and tired to do anything else.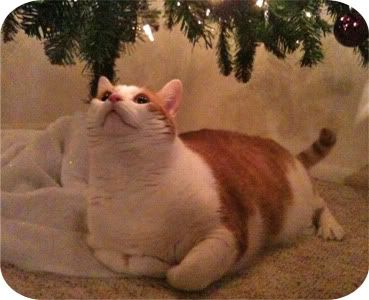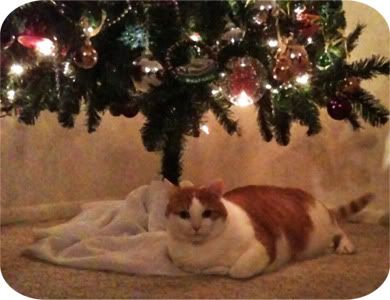 I finished the tree just as it was beginning to get dark outside. My husband and I went out for a nice piece of fresh grilled salmon and veggies (aka I got my cholesterol-lowering game on), and ended the evening by snacking on some peppermint patties while admiring my tree. Zero gifts are underneath it - and I'm going to keep it that way for a while, I think. Partly because - well, I'm not quite ready to start shopping for and wrapping gifts yet. But mostly because Diego likes sleeping underneath it.
Below are some of my favorite "parts" of the tree - enjoy!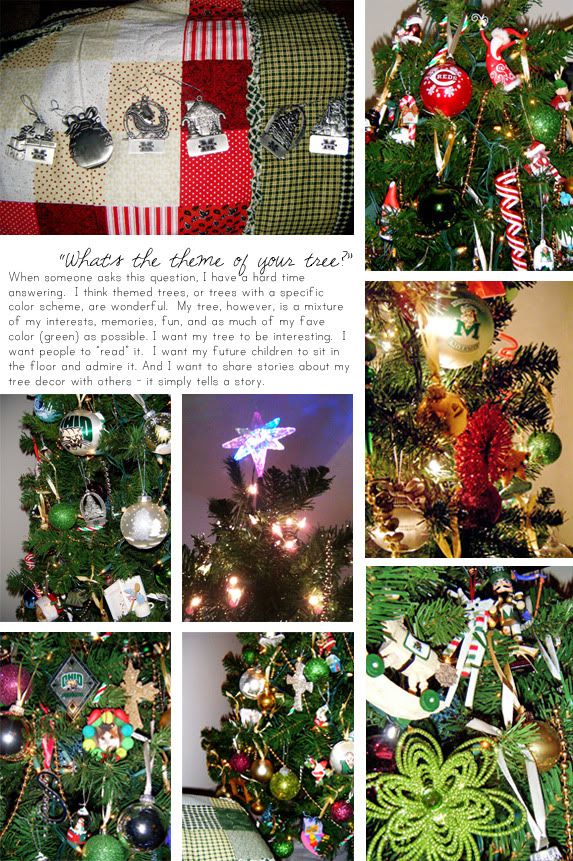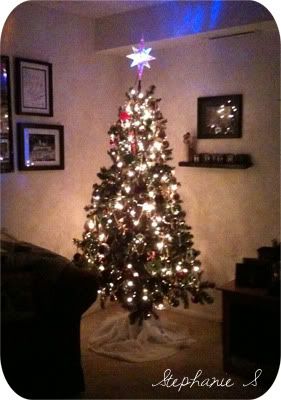 Have you put up your tree yet? What is its' theme?