... because if you would have struck while MY iron was hot this past Saturday, the outcome would not have been in your favor. While standing in my "stall", or "stable", ironing (i call it this because i do
not move from it for hours at a time and i always feel trapped), I started smelling something wierd. Todd noticed the steam coming from my iron, and asked, "is that normal?" I sarcastically replied that Yes, it was normal - when you apply the steam settings, steam actually comes out of the iron. After about half a minute, I put the smell and the steam together... and THANKFULLY, it hit me! AHHHHHHH my Iron is about to catch fire! I quickly grabbed an old t-shirt and held the iron on it for a second - and burnt a nice big patch all over the front. NICE. So, I've officially destroyed my very first iron. I'm sure there will be plenty more to come in my lifetime. Of course, I had to purchase Iron #2 on Sunday morning because there was a whooooolle lotta ironing ("arning", as we West Virginias like to call it) to be done and I don't "do" ironing during the work week. I always thought of irons as torture devices, but not this new one! TOTALLY CUTE! And works so well! I recommend this for all of my girlfriends who are building wedding registries. :) I flipping hate household chores, but my new cute iron will make things a little more enjoyable for at least a couple of weekends. P.S. it comes in Blue & Green as well.
I recently submitted a card design to the latest Hallmark greeting card contest - which is a Christmas/Holiday theme. I have no idea what will happen with this as far as the contest goes, but I am very glad that I finally entered. Hallmark sponsors several card design contests per year, and I always chicken out at the last minute. I know I have the designing part down... it's the text that gets me. The inside text reads, "Wishing you a magical Holiday Season filled with Joy and Happiness!"... see, totally lame. I suck at words! but here's the design - First, the sketch - then the finished product: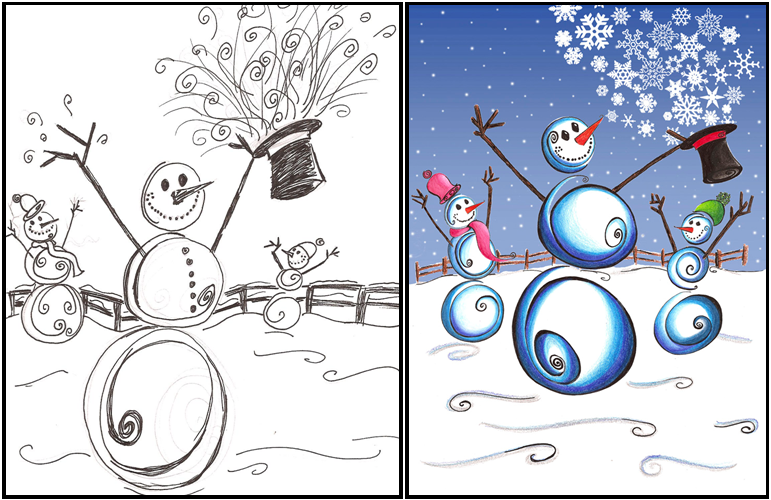 I spent a lot of time on this baby, so if it doesn't win (which it probably will NOT - too many entries with mean naked babies chewing on santa claus' beard and stuff), i'm still going to do something with it this Christmas/Wintertime. Not sure what... and open to any ideas. In any case, my motto always stands: "You can't win unless you try".
I finished up a WV-themed wooden sign this weekend - it's already been claimed by one of my little lady friends back at home (Webster County, WV) - she will be giving it to her father as a present. They will be my guinea pigs - if they love it in person, then I will produce some more! I am still on the fence about whether or not the wooden sign business is something i want to get into - when I get the "right" amount and type of feedback, I'll decide for sure.
One of my friends is having a baby in just a few months - her baby shower is next weekend, and I won't be in town to attend- but I am going to get to work on a few things for her! I have entirely too much energy when it comes to this creative artsy stuff - especially the new, challenging projects. I've never done anything baby-themed before, and have no idea where to begin because I'm completely baby-stupid (I have no idea what to do with a newborn... i always end up petting them, or scratching them under the chin, like a kitten!) ...It's hard to tell what she will end up with!
Have you ever had, or do you have, those nasty ugly red bump rashy looking things on the back of your upper arms? I did... but NOT ANYMORE! A good exfoliant and moisturizer w/shea butter are all you need. I purchased a jar of C.O. Bigelow Lemon Pomegranate Body Scrub and Body Cream - AMAZING stuff. Cleared those nasty gross patches of red mystery right up! Two days... you will see results. Just FYI... it's awesome stuff. It literally makes your skin glow. :)
Enough rambling for the day - I thought it was about time to post something new, I'm sure my readers have been waiting for it! HA HA