As my lovely blog readers may recall, I entered the Hallmark "That Says Christmas!" greeting card contest a couple of weeks ago. It was my first Hallmark card design contest, and a chance to have my card design sold online and in stores - and I have to say... it was a terrific experience.
When I received the receipt confirmation email from Hallmark after submitting my design online, I noticed a link to a Hallmark facebook fanpage. I clicked it, thinking "of course I"ll be a fan of this". I didn't realize that I would be joining a fabulous network of card designers, many of whom are past contest winners! The
HFB (Hallmark Fan Brigade-cute name, huh?) Facebook page
is absolute complete total awesomeness. At nearly 3,000 fans, it's a source of info for current contest participants, future participants, and everyone is so nice and supportive! It's a great place where you can share your contest entry with everyone and get feedback/advice. It's also where Hallmark judges share their exclusive info on behind the scenes contest info, finalists, and winners! Here's a contest run-down:
1. I submitted my design to Hmark on Tuesday, 5/18, and became a fan of
HFB/Hallmark Facebook
World. I started conversing with fellow fans a little bit, complimenting their design postings, etc.
2. I eventually posted my card design, after realizing this is what almost everyone was doing - and what everyone wanted me to do. The comments came pouring in, and that's when i realized how nice people can be! No jealousy here - at least, as much as I can tell from a bunch of photo comments. I also jumped in on wall conversations, and made some fast FB friends - terrific people!
3. The past winners and contest veterans provided so much helpful, informative advice to all the newbies :)
4. Hallmark periodically posted status updates regarding the contest deadlines.
Here's where it got REALLY crazy and awesome:
5. FLURRIES - once per week, the contest judges would post a trazillion comments about contest entries as they sorted through them. They would post things like "too many dogs with antlers", or, "nice headless frosty", just little clues that would make you wonder... are they talking about MINE? Of course, the HFB peeps were right there, commenting back. Total. Excitement. And so much fun to wait for and anticipate when the flurries would start!
6. BLURRIES (total freaking torture)- on the day of final judging, H-mark posted photos of the finalists' entries (and eventually the winners), but the images were blurred - so what did all of the participants do? Blurred our contest entry images ourselves, to compare to the photo of the finalist board that H-mark posted up (I learned to do this from the contest veterans.)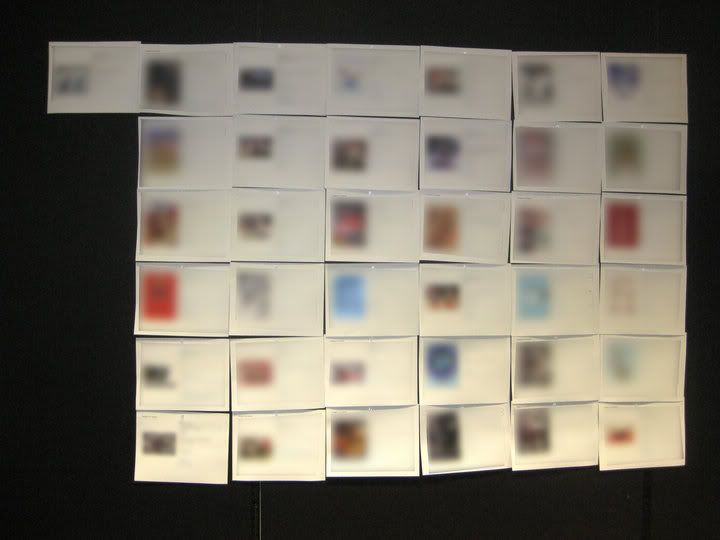 "Blurry" of the top 37 finalists
(Mine is in the top right-hand corner... I think?)
7. OMG. I. am. a. finalist. I had to be. I knew as soon as i saw the blurred board. Then... i blurred my design myself and compared. Yep, I'm 110% positive.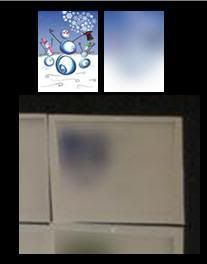 8. When the finalists were narrowed down and the winners were posted, I did not see my design... bummer, right? Well, sort of... but there were a ton of other people in the same boat, posting away on the FB wall, with such positive messages, lots of humor, and of course - reminding one another that the next contest is only a couple of weeks away (there's one every month or so.) And the winners? They were very gracious and so nice - and i can't wait to go and buy their cards (and say... "that person is my Facebook Friend!!!)
So, in the end, I made lots of awesome new FB friends, found a virtual community where tons of others love art, photography, and being creative - and i even found a fellow HERD/BOBCAT fan who lives all the way down in Texas City, TX! Out of nearly 1700 entries, I think I did pretty well - I was pleasantly surprised! I did notice that Hmark really goes for original photography - ya know, those random, interesting moments when you just happen to have a camera handy. I'm going to give that type of design a try in the next contest (June!) and see how i do.
Regardless of the end result, it was FUN. And I think many of us neglect having FUN. So I would like to encourage all of my friends to give these contests a shot (and.. have... fun!) If you're creative, artsy, and/or love photography, you've gotta do this - it's a great time! I am completely 146% addicted to Hallmark card contests now - I will never miss a single one. Take my word for it - Visit the
Hallmark Contests website
and read more about it! I'm also including the link to the contest website on my sidebar--->
Entries will be accepted for the next contest, "Crack 'em up", beginning June 7th... so start brainstorming, create something amazing and funny, and submit it!