YAY for Friday! And a super YAY for it being the last weekend in May - which, for me, is the start of the summer season. Hot Damn! (literally! It's been HOT outside this week!) I apologize ahead of time - I'm not feeling real humorous or creative today. So this will just be a quick run-down of my fantabulous week:
It has been an off-beat week for me, which started off with a Monday night sushi feast at a friend's house. Most of Todd's friends from grad school are heading out this summer, starting new jobs, getting married, etc. Monday night's little event was a sort of send off, as many of them will not see each other for a long time. I avoided the sushi, because I have strange issues with consuming raw food (I wash raw veggies for like ten minutes under running water before eating them.) Todd enjoyed the sushi, though - and I tried wasabi coated peas for the first time - HOLY SMOKES. They have a crap ton of zing to be so little! After the visit, we returned home where I caught the end of the season premiere of the Bachelorette. I love Ali! (but I think my favorite Bachelorette of all time has to be Jillian.)
Tuesday kicked off the judging of the Hallmark Card Design contest I recently entered, which participants could track on Facebook - this carried over into Wednesday as well. Super exciting stuff! Read the details on it
here
. Tuesday night was a total bust - my cable and internet went out 10 minutes into the Dancing with the Stars Finale, and came back on 17 minutes after the show ended! WTF??? I was NOT happy. So i did what any other depressed female would do - I popped in the Notebook - which, as is usually the case with Nicholas Sparks movies and books, made me a little sad. So I tried to read - and the current book I'm reading really sucks so far. I gave up and went to bed!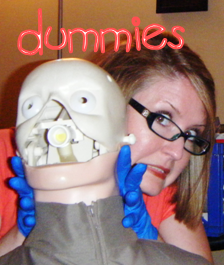 Wednesday was CPR day... My supervisor and I team-teach Red Cross CPR and First Aid classes for the agency, to keep our employees current on certification. It's a nice break from the day-to-day office work, and the students can be a total hoot! I particularly enjoy wrestling the dummies (Red Cross calls them "Manikins", but whatever... they're dummies) when setting up and tearing down the trainings. They're great - they never talk back! I also like wearing the surgeon-like rubber gloves... I feel smart and scientific with them on.
Wednesday Night's American Idol Finale was awesome - tons of surprise performances and shocking moments - especially when Bret Michaels came onstage and performed! I almost fell off the couch. He didn't seem well at all on the Apprentice finale on Sunday night, following the serious illnesses he's just recently suffered from. Everyone I know on the planet gave Janet Jackson's AI performance (and haircut) hell, but I enjoyed it. "She sounded like Michael, it was creepy, wierd, blahblahblah"... I think that may have been the first time several people ever heard her sing a slower song or something - she and Michael sound so much alike when they sing softer, slower ballads. I've listened to both of them ever since I was a silly little girl. I never thought it surprising that they sounded or even danced alike - both were coached by daddy Joe!
Anyway, all the time not spent at work or watching tv this week was spent doing laundry and getting ready to visit the fam in West Virginia this weekend. I will be taking tons of photos and blogging all about the weekend when I return to Athens, so stay tuned - you know you want to!
I also have to add that this weekend is the "Webster County Woodchopping Festival" - all of my hometown pals are super stoked for the annual event, and I hope you all have fun! I don't know if i'll be going to the festivities - not sure I'll have time, but I hope to see some old friends around town while i'm out and about.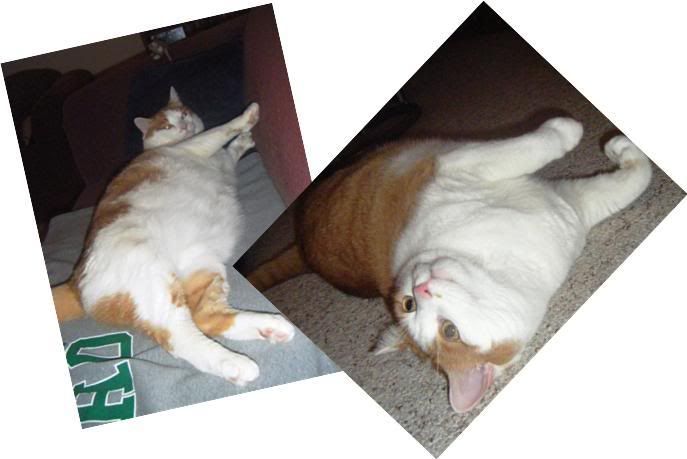 As for Diego, he'll probably party with all of his cat friends in Athens on Saturday night. Just look at him - all fat and happy. Don't you wish you could be like him? Not a care in the world... except for a clean litter box, plenty of cat nip, and a surplus of food.

I hope everyone has a fantastic weekend! Enjoy spending time with your family, relaxing if you have some time off, eating good food, and playing outside. And wear sunscreen, for the love of God! The UV index feels like a 432 most days (but they say it is only an "8". Whatever. 432!)