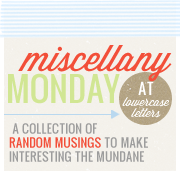 I decided that participating in something I can barely spell was the best way to sum up my scrambling, it's-a-new-work-week kind of thoughts!
I love my mom.

This weekend's visit with my mom has inspired me to write several "I-Love-My-Mom"-inspired posts, but today I will keep it short and sweet: I never have to worry about who I am when I'm around her - in her eyes, I'm a terrific person, a wonderful daughter, and that makes me smile. She knows me like no other, and I really appreciate the bond we have. She's never overbearing, never selfish, always caring, and always full of unconditional love. She holds little expectations for me - just that I'm always happy and living a wonderful life. She has always trusted me, has a great confidence in me, and makes me feel like an independent woman. I love her!
My blogging buds are awesome!
Seriously. Thank you so much for leaving so many kind compliments on Friday's "Redhead" new 'do post - I didn't expect to receive that much super sweet feedback! You all are so awesome!
A new favorite hand cream. No surprise that it's Bath and Body Works: Shea Cashmere Hand Cream in Twilight Woods. Amazing. Not greasy, ultra healing, and ultra soothing. (side note: I cannot believe my hands are already starting to dry and crack!)
My husband is a super hero.
Seriously. His students submitted their first essay last Tuesday. He had a goal to return the graded essays to his students in a week. Our weekend visit to WV slowed the process down a bit, but when we returned to Ohio yesterday, he graded 40 papers. 40 papers with a typed, detailed summary of good points, areas that need worked on, and a final grade attached. How many students get that kind of feedback? Today, he's back into job marketing fun. And FINALLY, schools from the deep south have started posting openings! We've been waiting! :)
I finished 'Safe Haven'.
This wasn't quite the Nicholas Sparks we all know and love - the romantic, sweet and sad novel took a back seat. Safe Haven had it's romantic parts, but they were few and far between - he went for suspense with this one, and I absolutely loved it. It reminded me of "The Guardian". It was a nice change-up; not sure all readers will agree, but I was glad to see Sparks switch it up a little.
Today is Commercial-free Workday on Soft Rock 93.3 Columbus.

Maybe I'm a total turd-head, but I love soft rock and pop, and this is my absolute favorite themed-radio station. If you're a Journey/Bee Gees/Don Henley/Fleetwood Mac fan, tune in to:

93.3 WLZT

for commercial free music from 9-5! (They play non-stop Christmas music starting in December! YEEEE!!!!)
I'm plotting and planning for my first Vlog. Any ideas?
I turn 27 in one month!
It's already that time of year again... what should I ask for?
Random thoughts buzzing through your head? Blog them and link up at Carissa Graham's "Miscellany Monday"!
Have a super day and a great week, all!